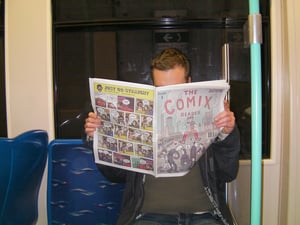 £

1.00
24 pages of Full Colour A3 underground newspaper featuring over 20 artists.
Including artists; Richard Cowdrey, Saban Kazim, Julia Homersham, Steve Tillotson, Bird, Jimi Gherkin, Gareth Brookes, Lord Hurk, Scott Smith, Daniel Locke, Peter Lally, Tobias Tak, Ellen Lindner, Paul O Connel, and many more!
The Comix Reader is in part an attempt to recapture some of the free spirit of the underground press, and also an experiment in publishing : 9,000 copies paid for and distributed by the artists. Printed on cheap newsprint, it's the opposite of the expensive limited edition; accessible to all who are interested.